How much is your house worth 2021?
23rd January 2021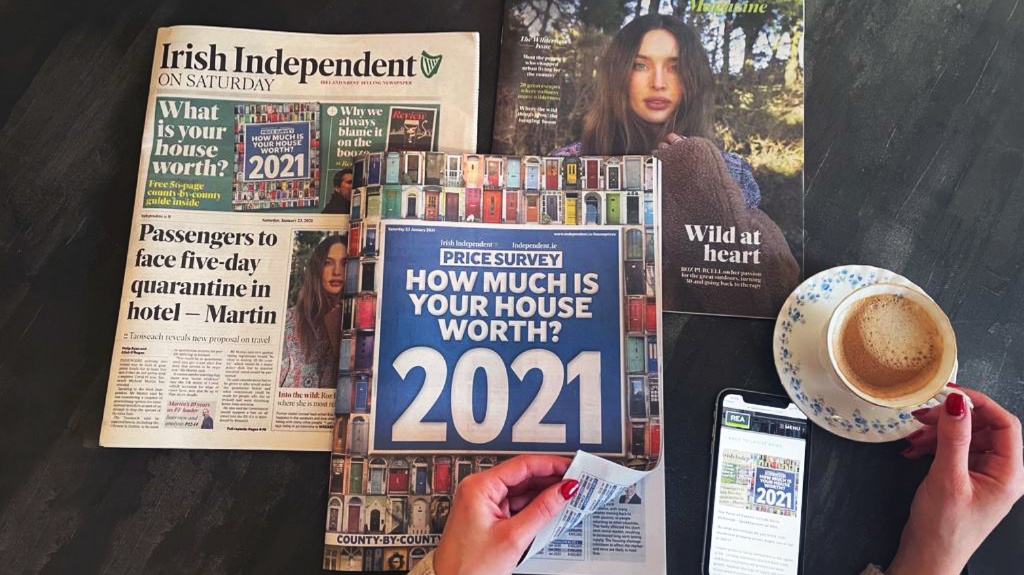 The Panel of Experts include Barry McDonald - Spokesperson of REA.
By what percentage do you think Irish residential property prices might rise or fall in 2021?
I expect prices to rise by somewhere in the region of 5%. Lending restrictions (Central Bank rules) and Brexit uncertainty will prevent run-away growth, however shortage of supply will continue to put upward pressure on prices over the coming 12 months.
Where do you see rents going in 2021?
Rents took a knock for the first time in 8 years this year. The reason for this was shifting working dynamics, with many tenants able to work from home moving back in with parents, or non-nationals returning home, and the decimation of the short-term rental market resulting in increased long term letting supply. However, I expect rents to hold firm and not fall any further in the new year. The housing shortage continues to affect the market and rents are likely to hold firm.
In your view, what impact has Covid 19 had on the Irish property market and what impacts will its expected control/eradication bring about?
Surprisingly the outbreak of the pandemic did not result in mortgage approved buyers holding off on investing in a property. In fact, quite the opposite occurred with those mortgage approved buyers showing urgency to drawdown on their mortgage approvals for fear that they may not get the same level of financial assistance in the future. The lockdown provided many with an opportunity to escape the rent trap and save (in some cases on childcare, rent and transport costs) for a mortgage.
Covid-19 also seemed to give people the opportunity to take stock of their lives, with a growing number opting to escape the more urban areas for extra space and better lifestyle. REA agents right across the country reported an increased number of enquiries from buyers based in Dublin and the other cities looking to move outwards.
Please rate out of ten the new Government's performance on housing. If you are encouraged/discouraged by any particular Government measures or attitudes introduced during the year please briefly state.
There is no denying the fact that the housing issue remains a crisis. Steps have been taken to improve the situation, however any improvement is incremental and Covid-19 has only provided the Government with a distraction to the chronic shortage of social housing. It is easy to forget that this very issue dominated the general election of February 2020.
Do you think the Central Bank's macroprudential rules should be reviewed to reflect changes in the market?
The Central Bank rules on lending were introduced in 2015 and have been reviewed and tweaked every year. The rules are there to help prevent a repeat of the credit fuelled property market crash of 2008. In the decade prior to 2008 property values increased dramatically, and in hindsight, to an unsustainable level. A huge cost was paid with years of negative equity and financial ruin for many. Now we find ourselves in a position whereby homeowners are in a much more robust position where they are less susceptible to market shocks and house price growth has been more sustainable. I am happy to see the rules remain in place into the future.
What type of property is toughest to sell at the moment and why?
Houses needing refurbishment continue to be the hardest to sell. Buyers are very conscious of the efficiency of a house and the cost savings and environment benefits of a well-insulated house. Busy day-to-day lives, financing difficulties, increasing build costs and difficulties in getting builders and handymen are also negative factors for houses that need modernisation.
What type of property is easiest to sell at the moment and why?
Small, modern, affordable houses are easiest to sell at the moment. Demand levels are strongest among first time buyers with most, following the lockdown experience, pushing to buy a house with a garden and space to work from home as opposed to an apartment.
Supply of property to market tightened in 2020. How do you see the supply of both second hand and new property panning out in the coming year?
Tight supply will continue to be a problem in 2021, however, hopefully the roll out of an effective vaccine will result in some who were too concerned to put their properties on the market in 2020 finally listing in the second half of 2021. New build completions will likely increase slightly next year, to somewhere in the region of 25,000 units, however this is still below the levels required to meet the demands. Remember also that many new home schemes are not coming to the market and instead are being sold off to large institutional investors for the rental market. I expect this practice to continue at a similar level for at least another 12 months.
What (specifically by type and general location) would you buy if you were a residential investor spending (a) €250,000, (b) €350,000 and (c) €600,000 in the residential property market today. (egs: three bed semi in Chapelizod/ two bed apart in Portlaoise etc) and why? (your virtual market is nationwide)
As an investor with a long term view I would be inclined to focus as close to the capital city as possible, ideally targeting a house as opposed to an apartment, thus avoiding annual management fees. For a budget of €250,000 I would look to buy a 2-bedroom terrace house in the likes of Crumlin, or a small house in Tallaght which has great transportation links and a hospital. At €350,000 I would buy a 3-bed house in an urban area like Marino or Walkinstown, and with a budget of €600,000 I would like to invest in 2 different properties, ideally the likes of 2 suburban 3 beds in Clondalkin, Lucan or Blanchardstown.
Is it a good time or a bad time to trade down? State why?
I am confident that the property market continues to have good long-term growth prospects fuelled by strong demographic fundamentals and shortage of supply. For this reason reducing your investment in property, for me, is not a good decision. Negative interest rates and already high value stocks certainly wouldn't entice you to trade down and put the surplus on deposit or into equities.
In your view, what sort of a year is 2021 likely to be for the first time buyer?
In a word, it is going to be 'frustrating'! As an estate agent in suburban Dublin I am regularly meeting with first time buyers, many of whom are downbeat following a number of months looking for a suitable house to buy, and feeling under pressure to agree a sale before their mortgage approval expires. Unfortunately competition levels are fierce with competitive bidding taking place resulting in many interested parties seeing the house they would love going for a price above what they can afford. Indications are that 2021 will continue to see the same supply issues and continued high demand levels. All I can suggest is that buyers remain patient.
Have buyer expectations changed in the last year?
Yes, I am finding that many buyers are far more reasonable in their expectations of what they can afford. They know from experience that it is a 'seller's market' and are aware they are not going to find somewhere that ticks all the boxes, however, there will always be some fundamental requirements that need to be met, and they are unwilling to budge on these. These fundamentals are a personal choice – for some it is garden size or aspect, for others it is location.
In your experience, what effect has Brexit had on the Irish market in the last twelve months and how do you think it will impact in the year ahead?
Brexit has created general economic uncertainty. This continues to be the case as the full affects of Brexit remain unknown to all. However, the conservative lending rules that were implemented by the Central Bank has resulted in a resilient property market. Like Covid-19, I believe that Brexit will not have a major affect on property prices over the coming 12 months.
If you were in Government, what policy would you like to introduce within the property/housing sphere?
I would like to see a return to the traditional approach to social housing whereby the state, through local authorities, invest in the development of social housing, as opposed to funding rental payments for tenants renting from the private sector, in many cases large overseas investment funds.