2020 Predictions for House Prices
20th January 2020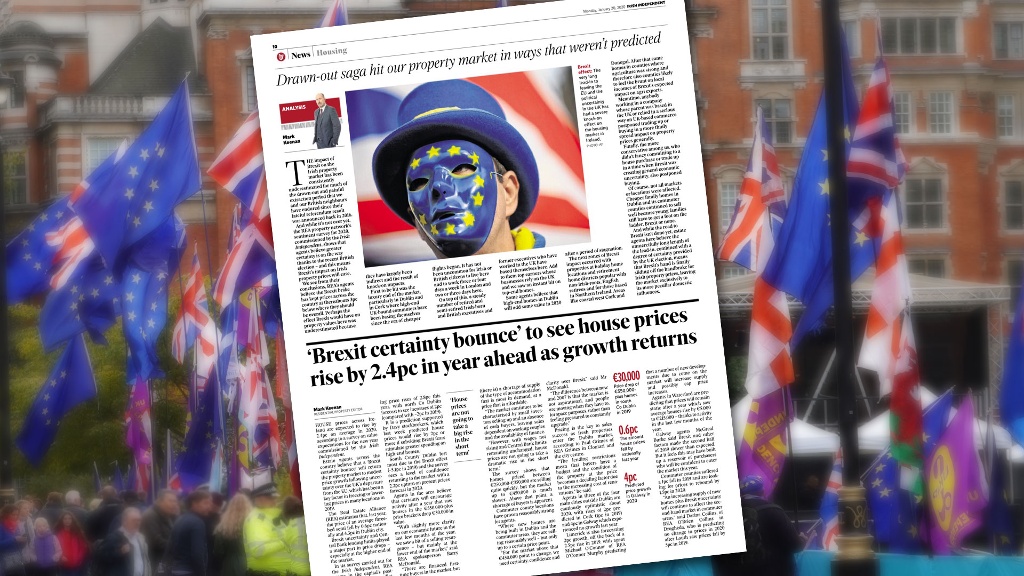 Estate agents are hoping that a Brexit bounce will return the property market to growth in 2020.
A survey carried out for the Irish Independent by the Real Estate Alliance Group has found that agents throughout the country expect prices to rise by 2.4% on average in the next 12 months.
This prediction comes off the back of a 2019 which saw average house prices decrease by -0.6% nationally and -4.3% in Dublin city with Brexit uncertainty playing a major part – especially at the higher end of the market.
Price rises of 2.8% are predicted by agents in the capital's postcode zones, with north county Dublin increases of 2% forecasted (-2% last year).
South County Dublin lost most due to the Brexit effect (-5.1% in 2019) and the survey sees a level of confidence returning to the market, with a 2.2% upturn on present prices forecast in 2020.
Agents in the area believe that certainty will encourage activity after a year that saw houses in the €550k-plus price brackets drop €30,000 in value.
"With slightly more clarity on our economic future in the last few months of the year we saw a bit of a selling resurgence - but mainly at the lower end of the market," said REA spokesperson Barry McDonald.
"There are financed first-time buyers in the market, but a shortage of supply of the type of accommodation that is most in demand, at a price that is affordable.
"The market continues to be characterised by small investors selling up and an absence of cash buyers, leaving sales dependent on working couples and the availability of finance.
"However, with wages not rising and Central Bank limits remaining unchanged, house prices are not going to take a dramatic rise in the short term.
"Homes between €250,000 and €350,000 are selling quite quickly, the market up to €450,000 is much slower, and over that point is where the absence of buyers is apparent.
"Where new homes are being built in Dublin and the commuter areas, they are selling reasonably well – but only up to a certain price-point
"For the market above that €450,000 point to change, we need certainty, confidence and clarity over Brexit.
"The difference between now and 2007 is that the market is not aspirational, and people are moving when they have to, for space purposes, rather than feeling pressured to constantly upgrade."
Pricing is the key to sales success as fresh properties enter the Dublin market, according to Paul Grimes of REA Grimes in Clontarf and the city centre.
"The lending restrictions mean that buyers have a budget and the condition of the property at the price becomes a deciding factor due to the increasing cost of renovations," he said.
"With less negativity in the air we predict a solid year with demand keeping prices stable rather than fuelling growth."
Agents in three of the four main cities outside Dublin are cautiously optimistic about 2020, with rises of 2% predicted in Cork (1% in 2019) and 4% in Galway which experienced no growth last year.
Limerick is also forecasting 2% growth, off the back of a 2.5% rise in 2019, with agent Michael O'Connor of REA O'Connor Murphy predicting that a number of new developments due to come on the market will increase supply and possibly cap price increases.
Agents in Waterford are predicting that prices will remain static after a year which saw average houses rise by €5,000 to €215,000 – thanks to activity in the last few months of the year.
Galway agents McGreal Burke say that Brexit and other factors made the second half of 2019 slower than expected, but feel that this may have built up a reservoir of transactable purchasers who will be confident to enter the market this year.
Commuter counties suffered a 1% fall in 2019, with most losses sustained in the third quarter, and are looking for prices to rebound by 1.5% in 2020.
"An increasing supply of new homes plus Brexit uncertainty will continue to affect the second-hand market in commuter areas," said Darina Collins of REA O'Brien Collins in Drogheda, who is predicting no change in prices in 2020 after Louth saw prices fall by -5% in 2019.
"A growing awareness of energy ratings and environmental issues, along with first-time buyer incentives are making new builds more attractive in the average family home market."
The biggest rise being predicted nationwide is in Sligo (5%) where, with market values at €137,000, demand is strong for available stock and prices increased by 11.3% in 2019.
"We expect the market to continue to rise in value. New building is required urgently, but the market not yet meeting increased build costs," said Roger McCarrick of REA McCarrick and sons.
The country's large towns experienced 2.85% growth last year, and REA agents are predicting that this will continue at a rate of 2.9% into 2020.
"Average prices in these towns are €162,207, meaning that supply, not the Central Bank restrictions, is the main driver of the market," said Barry McDonald.
"An increasing level of sales by small investors is being cited by agents nationwide as landlords exit the market – and in some cases this will supress price growth in smaller areas."